Dates and Venue
The main OIML meeting venue is the BMWA (Federal Ministry of Economics and Labor) Conference Center in central Berlin. The meetings will take place from Sunday 24 October through Friday 29 October and the full week's schedule is published here. In addition to the 12th International Legal Metrology Conference and 39th CIML Meeting, there will also be a Forum on Developing Countries, a meeting of the Development Council and a Round Table discussion/Workshop on the MAA.
Access to the BMWA is via the main entrance on the Invalidenstrasse and the address is:
BMWA Berlin
Scharnhorststr. 34-37
D- 10115 Berlin
Tel.: +49 (0)1888-615-0
Fax: +49 (0)1888-615-7010.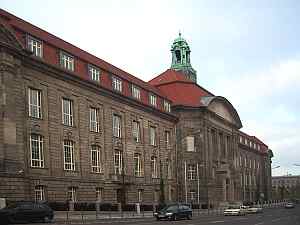 Registration
All delegates intending to attend the meetings are requested to fill in a registration form and return it to the BIML by fax at their earliest possible convenience, but in any case no later than 31 July 2004.
On Sunday, October 24th (only) a registration desk will be set up in the Ramada Hotel from 10 a.m. to 2 p.m. On the following conference days a registration desk will be available at the BMWA from 8 a.m. (and not at the Ramada).


Lunch and Refreshment Breaks

There will be breaks for refreshments every morning (Monday-Friday) and on Monday, Tuesday and Friday afternoons. Lunch will be served every weekday except Thursday (due to the Reichstag sightseeing tour).


Languages
The Conference languages will be English and French, and simultaneous interpretation will be provided between these languages. Local Staff and BIML Staff will endeavor to assist delegates with any language difficulties.


Hotel Accommodation
The event organizers strongly recommend that OIML delegates stay at the 4-star Ramada Hotel, where a block of 110 rooms has been reserved at a special discount rate (including breakfast):
- Single room: € 83;
- Double room: € 98.
The Ramada is located in the heart of the historical city center and is only a 5 to 10 minute walk from the BMWA, and the room rate negotiated represents a substantial saving on the regular price. The hotel comprises 141 air-conditioned rooms on five floors and was opened only recently. It is located 100 m from the Zinnowitzer Straße subway station and 5-6 km from the airports.
Reservations should be made directly by fax or telephone (Not via the hotel web site) with the hotel by 15 August 2004, quoting the reference "OIML". Reservations after this deadline may be accepted subject to room availability, but it may no longer be possible to obtain the special discounted room rate. The hotel contact details are:
Ramada Berlin-Mitte Hotel
Chausseestrasse 118-120
D-10115 Berlin
Germany
Tel.: (+49) 30 278 7550
Fax: (+49) 30 278 7555 50
E-mail: berlin.mitte@ramada-treff.de
Web site: http://ramadainternational.com/ramada/dpp/propertyPage.mi?marshaCode=BERNR


Arrival
Within Berlin, there is an extensive bus, subway (U-Bahn) and suburban-railway (S-Bahn) network, making travel easy within the city. Delegates may use public transport to travel the short distance from the airports or railway stations to the hotel, or alternatively take a taxi. Detailed arrival instructions are given below.
By plane
Berlin has three airports: one domestic and two international. Most delegates will probably arrive at Berlin-Tegel International Airport (TXL). From there, delegates should take a bus and alight at the "Kurt-Schumacher-Platz" stop, then travel by subway to the station "Zinnowitzer Straße". The Ramada Hotel will be located on the right at the station exit.
For delegates arriving at Berlin-Schönefeld Airport (SXF), a bus can be taken to the suburban train station "Berlin-Schönefeld". Take the suburban train in the direction "Westkreuz" and alight at the "Friedrichstraße" station, then travel by subway in the direction "Alt-Tegel" and alight at "Zinnowitzer Straße". The Ramada Hotel will be located on the left at the station exit.
By train
On arrival at "Berlin-Zoologischer Garten", take the suburban train to "Friedrichstraße", then travel by subway in the direction "Alt-Tegel" and alight at "Zinnowitzer Straße". The Ramada Hotel will be located on the left at the station exit.
On arrival at "Berlin-Ostbahnhof", take the suburban train to "Friedrichstraße", then proceed as above.
By car
Leave the BAB 100 Autobahn (Freeway / Motorway) at the Kaiserdamm exit and take the B2 towards "Zentrum" (City Center) and turn left at Friedrichstraße. Continue to Chausseestraße and the Ramada Hotel will be on the left side.

Climate
Towards the end of October the mean temperature in Berlin is generally about +10 °C, though there is a possibility of frost at night. An umbrella and/or raincoat is a wise precaution as rain is also possible; the local weather forecast can be found at the following link: http://www.wetterbericht.de


Electricity
The mains supply voltage in Germany is 220/230 V (AC) - 50 Hz.


Banking, Currency, Credit cards, Emergency Services
The currency is the Euro (€). Cash points are available throughout the city.
It is customary in Germany to use cash as the payment method for small amounts of money. All major credit cards are accepted in shops, restaurants and hotels.
There is a wide network of pharmacies. For emergency assistance, call 112.


Passports and Visas
A valid passport is generally required to enter Germany, though ID cards may be sufficient for most EU Nationals. Entry visa requirements vary from country to country and so it is strongly recommended that delegates contact their local Consulate or Embassy for further information prior to making travel arrangements.


Information about Berlin
The internet contains a wealth of information about Berlin and Germany. As a starting point to discover what the City has to offer, the Berlin Tourist Information web sites can be consulted: http://www.berlin.de/english/index.html and http://www.btm.de/index.html.en


Accompanying Persons' Program


A program will be organized for Accompanying Persons; more details will be available in due course.